Printer-friendly format
WASHINGTON — Transgender women won two congressional primary races Tuesday night — and made history as the first trans people to become major candidates for the U.S. House or Senate.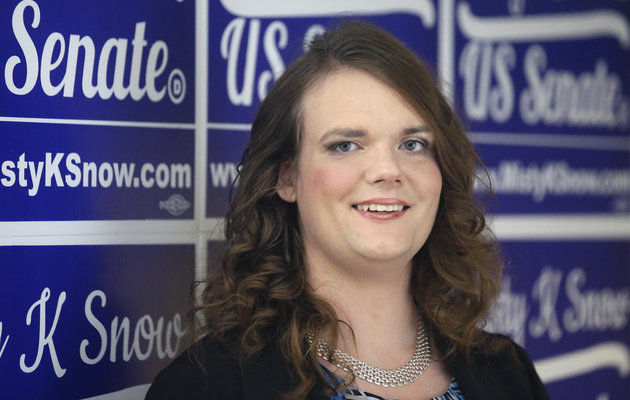 ASSOCIATED PRESS
Senate Democratic candidate Misty Snow is trying to unseat Sen. Mike Lee (R-Utah), a tea party favorite.
Utah voters chose Misty Snow (D) to run against Sen. Mike Lee (R) in November. In Colorado, voters backed Misty Plowright (D) to take on Rep. Doug Lamborn (R).
It's a long shot for either to get elected. Utah is a solidly Republican state, and Lamborn's district in Colorado is extremely conservative. Still, it's a positive sign that transgender candidates aren't just out there, they can also succeed.
"In what is already shaping up to be one of the most consequential elections for LGBT equality in more than a generation, yesterday's primary wins by two transgender women candidates continues to add to the historic nature of November's election," said Malcolm Lazin, executive director of the Equality Forum, an LGBT rights group. "In many different ways, such as by running for office as an openly LGBT candidate or serving our country in uniform, LGBT people continue to show that we are as much a part of the fabric of America as anybody else."
Snow, a 30-year-old progressive who works at a grocery story in Salt Lake City, beat her primary opponent Jonathan Swinton by nearly 20 percentage points. She entered the race late, but picked up momentum after criticizing Swinton for supporting restrictions on abortion rights. Snow has also called for a minimum wage hike, paid family leave and for cannabis to legalized .
Plowright, a 33-year-old Army veteran and former Microsoft employee, defeated her primary opponent Donald Martinez by 16 percentage points.
By Jennifer Bendery White House and Congressional Reporter, The Huffington Post
http://www.huffingtonpost.com/entry/transgender-candidates-congress_us_5773dcf4e4b0352fed3e8695