Barbara Gittings Residence Historic Marker Dedication
Tuesday, July 26, 11:00 am - 11:30 am
South 21st & Locust Streets
Philadelphia, PA 19103
MAP
FREE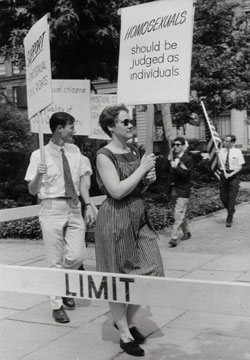 The mother of the LGBT civil rights movement, Barbara Gittings resided in Philadelphia with her partner, Kay Lahusen, in the 1960s. During that time, Gittings was the editor of the first lesbian magazine, co-organized the Annual Reminders each July 4th at Independence Hall (1965-69), and helped lead seismic changes in both the American Library Association and the American Psychiatric Association.
Sponsored by:

Anna Crusis Women's Choir
Formed in Philadelphia in 1975 by Catherine Roma, the Anna Crusis Women's Choir is the first feminist women's choir in the United States. Including both lesbian and straight women, it is known for its multicultural, eclectic repertoire; a cappella vocals; and music for, by and about women. It was the first in the Gay and Lesbian Association of Choruses (GALA), which today comprises over 180 member choirs.

Kenyatta Johnson
Councilman
City of Philadelphia 2nd District
Kenyatta Johnson represents Philadelphia City Council's 2nd District, which covers parts of Center City, South and Southwest Philadelphia and includes the stadium area, Philadelphia International Airport, the Navy Yard and a variety of neighborhoods. The youngest member of City Council, Johnson entered the political scene in 1998 determined to end gun violence through Peace Not Guns, an organization he founded after the murder of his cousin. His activism led to a successful run for the Pennsylvania House of Representatives, where he served from 2009 to 2012, when he entered City Council. Johnson served previously as a senate staffer after volunteering with AmeriCorps. He is committed to improving education, affordable housing, business development, public safety, job training and access to employment for his constituents.

Malcolm Lazin
Executive Director
Equality Forum
Malcolm Lazin is the executive director of Equality Forum and the founder of LGBT History Month. Previously a federal prosecutor, he received the U.S. Attorney General's Distinguished Service Award and subsequently served as the chair of the Pennsylvania Crime Commission. Lazin is credited with the lighting of the Benjamin Franklin Bridge, which connects Philadelphia, Pennsylvania with Camden, New Jersey. He also successfully led a nearly two-decades-long campaign to make Washington Square in Philadelphia, the largest Revolutionary War burial site, part of Independence National Historical Park. Lazin is the recipient of numerous local, state and national community service and civil rights awards.

Annise Parker (Keynote Speaker)
Mayor of Houston
Annise Parker served for six years as the mayor of Houston, following terms as city council member and controller. She was the first openly LGBT mayor of a major American city and only the 10th woman to hold such a position. Among other responsibilities, Parker was a member of President Obama's Task Force on Climate Preparedness and Resilience. She is a FirstNet board member and a Department of Homeland Security Secretary's Advisory Council member. In 2010 Time magazine named her one of the 100 most influential people in the world. In 2014 she was named top US and seventh-ranked world mayor by City Mayors Foundation. Parker has worked for LGBT civil rights since the mid 1970s. She and her wife, Kathy Hubbard, have been together for more than 25 years. They are proponents of adoption, with three daughters and a son.

Paul Steinke
Executive Director
Preservation Alliance for Greater Philadelphia
Paul Steinke is the executive director of the Preservation Alliance for Greater Philadelphia, an organization dedicated to preserving and advocating for historic properties in the city. Steinke served on the Preservation Alliance board of directors for nearly two decades prior and was general manager of the Reading Terminal Market. His leadership helped propel Reading Terminal's growth, making it one of nation's most successful markets. He has also served as finance director for the Center City District and as the first executive director of the University City District.