Philadelphia Conference Historic Marker Dedication
Wednesday, July 27, 11:00 am - 11:30 am
Arch Street Meeting House
320 Arch Street
Philadelphia, PA 19106
MAP
FREE
T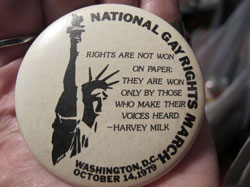 he marker designates where 300 activists from around the country met in February 1979 to organize the National March on Washington for Lesbian and Gay Rights. The seminal 100,000-person demonstration, which took place on October 14, 1979, defined a national civil rights movement.
Sponsored by Jim Hormel

Dustin Lance Black (Keynote Speaker)
Screenwriter, Filmmaker, Author and Social Activist
American Foundation for Equal Rights
Dustin Lance Black is a screenwriter, filmmaker, author and social activist. His original screenplay for "Milk," about the slain openly gay politician Harvey Milk (starring Sean Penn), earned him an Academy Award and two WGA Awards. His other award-winning screenplays include "Pedro," about the HIV-positive "Real World" cast member Pedro Zamora and "J. Edgar," which starred Leonardo DiCaprio. In addition to high-profile television and film projects, Black works for LGBTQ rights on a national and international level. He is a founding board member of the American Foundation for Equal Rights (AFER), which successfully led the federal cases for marriage equality in California and Virginia with lawyers David Boise and Ted Olson, putting an end California's Proposition 8. His play, "8," whose LA cast included George Clooney and Brad Pitt, was based on the Prop 8 trial. Black is repeatedly named one of the 50 most powerful LGBT people in America.

Richard Burns (Participant)
LGBT Organizer and Activist
In February 1979, Richard Burns and three others represented Boston at the Philadelphia Conference to organize the first National March on Washington for Lesbian and Gay Rights. At the time, he was the managing editor of Gay Community News, the national newsweekly. Today he is a nonprofit management consultant who has served as interim executive director of a variety of organizations. He is a founding board member of New York's AIDS Memorial Park, and he serves on the board of the Proteus Fund and the advisory board of the Center for HIV Law & Policy. He has served as chief operating officer of the Arcus Foundation, executive director of the LGBT Community Center in New York City, founding president of GLAD in Boston, founding co-chair of Centerlink, and on the board of Lambda Legal.

Malcolm Lazin (Participant)
Executive Director
Equality Forum
Malcolm Lazin is the executive director of Equality Forum and the founder of LGBT History Month. Previously a federal prosecutor, he received the U.S. Attorney General's Distinguished Service Award and subsequently served as the chair of the Pennsylvania Crime Commission. Lazin is credited with the lighting of the Benjamin Franklin Bridge, which connects Philadelphia, Pennsylvania with Camden, New Jersey. He also successfully led a nearly two-decades-long campaign to make Washington Square in Philadelphia, the largest Revolutionary War burial site, part of Independence National Historical Park. Lazin is the recipient of numerous local, state and national community service and civil rights awards.

GoGo Morrow began singing in church at age 10 and went on to major in voice and dance at Philadelphia's high school for the Creative and Performing Arts. After college she worked as an assistant at Def Jam Recordings. She performed a two-year engagement as a background singer and dancer for Lady GaGa on the Emmy Award Winning "Monster Ball" Tour. She has opened for artists such as Brandy, Lauryn Hill, Common and Rick Ross, among others, and has performed during New York Pride. She is working on her debut album.

Paul Steinke (Participant)
Executive Director
Preservation Alliance for Greater Philadelphia
Paul Steinke is the executive director of the Preservation Alliance for Greater Philadelphia, an organization dedicated to preserving and advocating for historic properties in the city. Steinke served on the Preservation Alliance board of directors for nearly two decades prior and was general manager of the Reading Terminal Market. His leadership helped propel Reading Terminal's growth, making it one of nation's most successful markets. He has also served as finance director for the Center City District and as the first executive director of the University City District.

Nathan Townsend (Singer)
and LGBTQ Youth Advocate
Nathan Townsend released his first CD of love songs, "Nathan Townsend presents This Is My Life," in June 2015. He has shared the same stage with Will Smith and Jazzy Jeff and has been invited to speak at the White House. In addition to his singing career, he is a menswear designer and former award-winning fashion model. He travels extensively, championing LGBTQ youth for the Gilead Advocate Network.